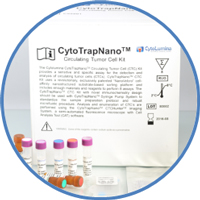 CytoTrapNanoTM CTC Reagent Kit is a complete set of consumables including blood specimen separation reagents, proprietary microfluidic CTC capture chip, CTC enrichment and immunostaining reagents.
Standard CTC Kit (Lung Cancer, Breast Cancer etc.)
–Ke Z et al., (2015) ACS Nano. 9: 62-70. PMCID: PMC4310634
Prostate Cancer CTC Kit
–Chen JF et al. (2015) Cancer. 121(18):3240-51. PubMed PMID: 25975562; PubMed Central PMCID: PMC4560974.
Melanoma CTC Kit
– Hou S et al. (2013) Angew. Chem. Int. Ed. 52: 3379–3383. PMCID: PMC3807678